Local Body Elections: Ghaziabad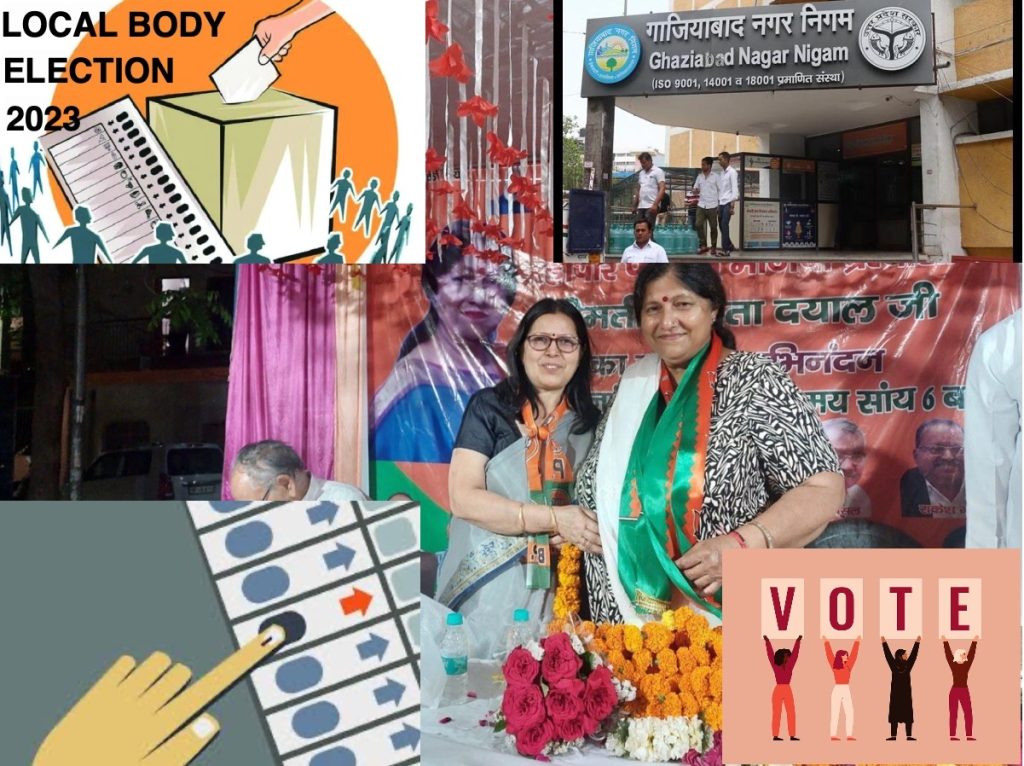 The 74th Amendment of the Indian constitution gave constitutional status to the municipalities. This amendment was introduced in the year 1992 to add a new Part IXA to the constitution. This amendment is also known as Nagarpalika Act. As per the constitution of India, there are three kinds of Municipalities in an area where the population is above 10 Lakh: –
Nagar Panchayat,

Municipal Council, and

Municipal Corporation.
---
---
Ghaziabad Municipal Corporation
Ghaziabad consists of nine local bodies- 1 Nagar Nigam, 4 Nagar Palika Parishad, and 4 Nagar Parishad. Ghaziabad Municipal Corporation (GMC) also known as Ghaziabad Nagar Nigam (GNN) mainly serves the urban segment within Ghaziabad. GMC was founded in 1994 under the Uttar Pradesh Municipal Corporation Act-1959 which is responsible for the civic infrastructure and administration of Ghaziabad. GMC is divided into 5 zones- City Zone, Kavi Nagar Zone, Vijay Nagar Zone, Mohan Nagar Zone, and Vasundhara Zone. GMC comprises 100 wards with councillors elected from each ward and one mayor position.
History of Local-body Election
It cannot be denied that BJP holds a strong position in a local-body election in Ghaziabad. List of Mayors:
2006-12 : Damyanti Goel (BJP)

2012-16 : Telu Ram Kamboj (BJP)

2016-17 (Re-election due to death of ex-mayor): Ashu Verma (BJP)

2017-22: Asha Sharma
In 2017, the total voters' turnout was 5,67,118 wherein BJP candidate Asha Sharma went on to secure 2,82,793 votes (49.86%) and the Congress candidate manage to secure just 1,19,118 votes (21%).
Current Elections (2023)
The local body elections to all wards will go on voting on 11th May with results set to be declared on 13th May. This year 12 candidates are contesting for the mayoral seat which is reserved for women. The BJP has fielded veteran leader Sunita Dayal Aggarwal as Mayor candidate. As per official records, 1,837 candidates will try their luck in the upcoming local-body election for the positions of mayor/chairpersons and Councilors/Parshads for the Ghaziabad corporations, 4 Nagar Palikas, and 4 Nagar panchayats. Apart from the corporation seats, 37 candidates are running for chairperson seats, and 848 are running for member seats in four Nagar Palikas.
As per district election officials, there are more than 270+ polling stations are being set up by the State Election Commission and 34 separate flying squads are monitoring election expenditure and voter seduction through the distribution of money or liquor.
References:-
Hindustan Times- https://www.hindustantimes.com/cities/noida-news/ghaziabad-local-body-elections-candidates-finalised-campaigns-begin-for-mayoral-and-councillor-seats-1-837-candidates-vie-for-various-positions-101682878501609.html
Ghaziabad Nagar Nigam- https://ghaziabad.nic.in/नगर-%E2%80%8B%E2%80%8Bनिकाय/
Highlights from the 2023 Elections