[9, 10 & 11 July] Daily Legal Current Affairs: Case Laws & News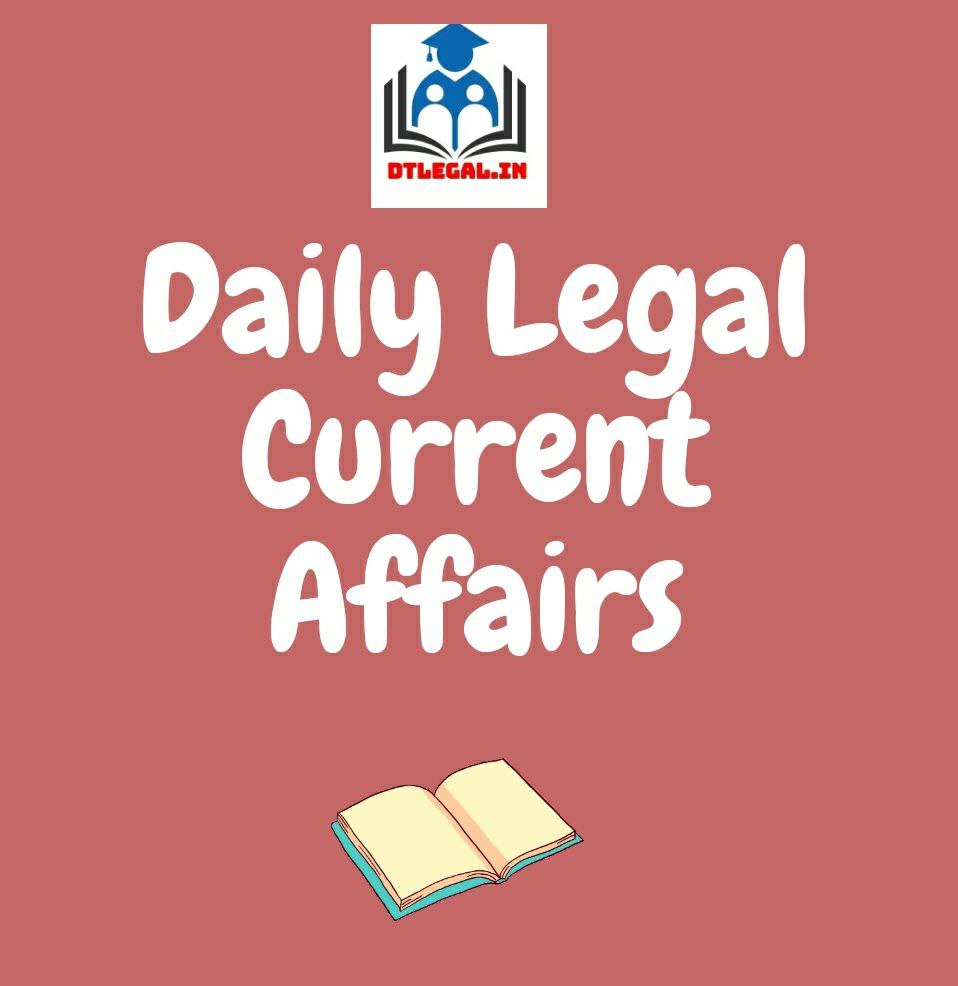 Daily Legal Updates: 9, 10 & 11th July
Supreme Court:-
– The SC has held that BS-IV Vehicles sold during the lockdown should not be treated as sold, and that the consideration recieved should be refunded back to the purchasers. Also, the Court ordered that no vehicle sold after 31st March should be registered. (M.C. Mehta vs. Union of India & others)
– The SC has observed that non-payment of a part of sale consideration is not a ground for cancellation of a registered Sale Deed. Also, the SC has said that plaint shall be rejected if any of the grounds specified in clause (a) to (e) are made out. If court finds that the plaintiff does not disclose a cause of action, then court can reject the plaint. (Dahiben vs. Arvindbhai Kalyanji)
– Supreme Court Advocates On Record Association has passed a Resolution seeking tim-bound enquiry into the allegations of medical negligence which led to the death of 80 year old lawyer SK Dhingra on SC premises.
– Central Govt. Has filed an affidavit before the SC stating that there exist no prohibition on creation of PM CARES Fund as it is independent and distinct from NDRF (National Disaster Relief Fund)
– A Petition was filed in SC before the death of the wanted-gangster Vikas Dubey on 10th July. The Petition was filed by an Advocate Ghanshyam Upadhyay.
– The SC has issued notice to the Central Govt and the UP Govt whether trial court could impose pre-condition for granting bail to the accused related to restriction on usage of social media? The plea is filed challenging the bail given by the Allahabad HC which had granted bail to the accused on the condition that he would not use social media till the conclusion of trial. (Sachin Choudhary vs. State of UP)
– The appeal against an order of conviction cannot be dismissed in default but appeal must be taken taken up and decided on merits. (Sakunthala vs. State)
– The SC while hearing the SLP in which petitioner has claimed that his appeal is pending before NCLAT, Mumbai because it is closed. The SC has said that the "Doors of Justice cannot be closed". (M/S Marathe Hospitality vs Mahesh Surekha)
– PUCL has moved an application seeking investigation by SIT and Judicial inquiry in to the all encounters in UP and their political nexus. (PUCL vs Union of India & others)
– The SC in suo motu case has ordered that notices and summons, which are an "integral part of court proceeding" can be served through email, fax and instant messaging application. CJI Bobde while talking about service of summons through Whatsapp, said if the two blue ticks are there then it can be proved under Evidence Act, but if the person has turned it off, then it cannot be proven.
High Courts & other Legal Developments:-
– Delhi HC has rejected the plea moved by Sharjeel Imam challenging the decision of trial court wherein the Delhi Police was granted an extension of 3 months, beyond the statutory period of 90 days, to complete the investigation against him for offences under UAPA. (Sharjeel Imam vs. State of NCT of Delhi)
– National Consumer Disputes Redressal Commission (NCDRC) has held that using of pre-printed and fixed informed consent cum undertaking by the hospitals will help them gain an undue advantage and it is a practice of "administrative arbitrariness". (Vinod Khanna vs. R.G. Stone Urology & Leproscopy Hospital & others)
– Kerala HC to examine the proposal to implement Advocate-on-record system in the HC.
– Kerala HC has observed that a letter given or sent to a police officer by a person after the commencement of investigation of an offence come under the section 162(1) of CrPC, 1973.
– Delhi HC has directed Delhi Govt to expeditiously process application under Assistance scheme for riot victims which shows that victims have serious injury. As per the scheme, compensation to be awarded is Rs. 2 lakh with a immediate relief of Rs. 25,000. (Shaan Mohd vs. GNCTD)
– Delhi HC has directed AIIMS to constitute a Expert Committee to examine a woman who is seeking termination of pregnancy in the 23rd week due to to abnormalities in the foetus.
– Telangana HC has dismissed the PIL seeking the demolishing of Secretariat by the government. (Jeevan Redy vs. State of Telangana)
– The Union Ministry of Home Affairs permitted the National Investigation Agency (NIA) to investigate the case relating to the smuggling of 30-kg of gold through Thiruvananthapuram airport using diplomatic cargo dispatched to UAE Consulate.
– Delhi HC has directed East Delhi Municipal Corporation to ensure that all the grievances of Swachhata Karamcharis who have complained about non-payment of salaries are addressed in time bound manner. (Birju vs. EDMC)
– Congress MP Shashi Tharoor has served legal notice to Kairali TV Malayalam News Channel for broadcasting defamatory and false claims associating with a prime suspect in Kerala Gold Smuggling case.
– Delhi HC has granted bail to all the foreign nationals related to Tablighi Jamaat incident. (State vs. Khalikd abebe)
– With a majority of 7:2, the US Supreme Court has ruled that sitting President cannot escape criminal investigation. Also, the court has allowed to access to Trump's tax records. (Trump v. Vance)
– Delhi HC has said that where the parents are in default for payment of tuition fees for more than two months, the school is free to issue an notice to such parents to explain the reason for the default. And if parents are not able to give satisfactory answer to the school, the school may decline to provide ID and password for online education facility for the students. (Queen Mary School Northend vs. Director of Education)
– Madras HC has directed Tamil Nadu govt to provide ration to the migrant workers irresprctive of whether they have ration card or not. (A.P. Suryaprakasam vs. Govt. Of Tamil Nadu & others)
– Lawyer & Law students has written to the CJ of Allahabad seeking CBI/SIT probe into the encounter of Vikas Dubey.
– Bar Council of Delhi has written letter to PM Modi requesting him to release funds upto amount of Rs. 500 crores from Contingency Fund of India as well as PM CARES Fund to mitigate the hardship faced by advocates in Delhi NCR region.
– Madras HC has pulled up Central Govt and Tamil Nadu govt for not giving due recognition to the Siddha Medicine in the cure of COVID. (Kaliyaperumal vs. Govt. Of Tamil Nadu & others)
– Madras HC has quashed the criminal case against the mentally ill person who participated in a protest against the shooting incident at Thoothukudi on the closure of Sterlite Industries. (Mr. X vs. Inspector of Police)
– Kerala HC has granted bail to the Advocate clerk in a case registered on the basis of a complaint by Family Court Judge that he has interrupted the Court proceedings. (Aneesh vs. State of Kerala)
– J&K HC has issued notice to J&K Administration on a PIL seeking to declare Hindi as an official language in the UT of J&K. (Maghav Kohli vs. UT of J&K)
– Bombay HC has directed District Central Co-operative Bank to disburde crop loans to farmers immediately without insisting payment of interest which has been waived off by the government. (Kishore Ashokrao vs. State of Maharastra)
– Allahabad HC has directed UP Govt to conduct mass testing in entire state. The Court has mentioned 5 hig-risk cities to be compulsorily tested: GB Nagar, Ghaziabad, Meerut, Agra, Kanpur, Lucknow and Varanasi.
– Gujarat HC has granted anticipatory bail to a person accused under SC/ST Act, 1989, observing that accused did not know the identity of the victim. (Avinashbhai Prabhudas vs State of Gujarat)
– SC has expunged the personal remark made against a Commercial Tax Assessing Officer- Sujatha KC by the Karnataka HC. (Sujata KC vs. M/S Kalyani)
– UP Govt has appointed Special Investigation Team headed by Sanjay Bhusreddy to investigate the criminal activities carried out by gangster Vikas Dubey.
Join us: