Weekly Supreme Court Judgments Digest [12th July to 19th July]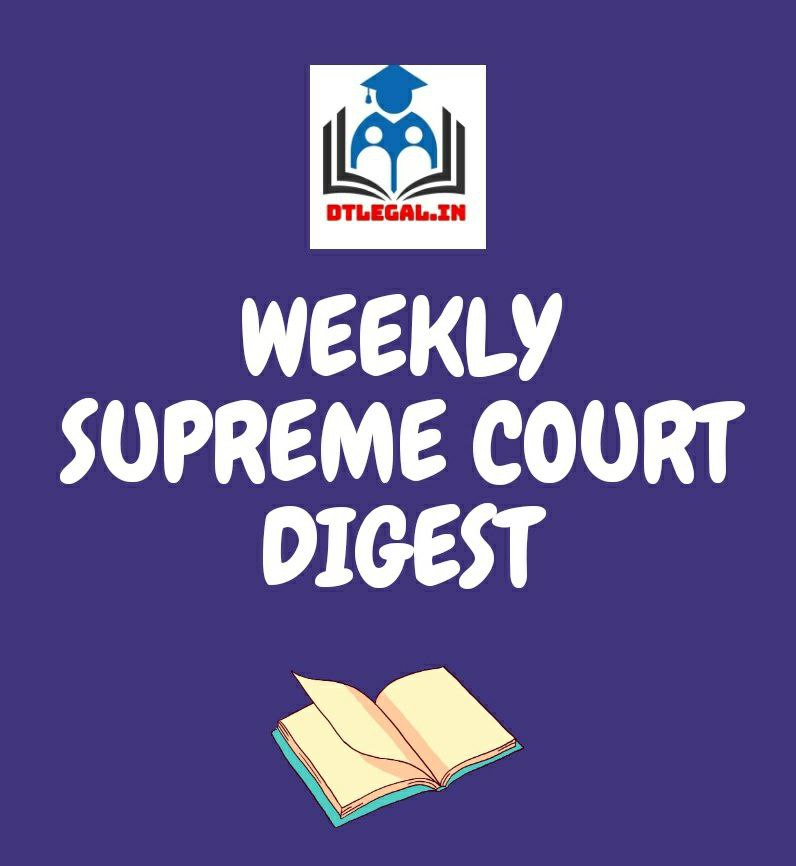 WEEKLY NOTABLE JUDGMENTS OF THE SUPREME COURT:



– Relief to PwD: The SC Bench headed by Justice Rohinton Fali Nariman has observed that people suffering from disabilities are also socially backward and are thus entitled to same relief as given to SC/ ST candidates. (Aryan Raj vs. Chandigarh Administration)
– Right to escheat: The SC reversed the decision of the Kerala HC and held that death of the last ruler will not result in escheat of the rights in favour of the government. Therefore, Rights of erstwhile Royal family of Tranvancore are "Shebait" in the administration of Sree Padmanabha Swamy Temple. (Sri Marthanda Varma Through LR vs. State of Kerala)



– Constitution Bench: SC Constitution Bench comprising of Arun Mishra, Indira Banerjee, Vineet Saran, MR Shah & Aniruddha Bose held its first Virtual sitting in case of Tamil Nadu Medical Officers Association & Others vs. Union of India & others.
– Evidence Act: The 3-Judge bench of SC overruled the 2018 decision delivered by a 2-judge bench in the case Shafi Mohd. vs. State of HP and held that the required certificate under Section 65B(4) is unnecessary if the original document itself is produced. Which means that a party who is not in possession of device from which the electronic document is produced, cannot be required to produce certificate under Section 65B (4) of Evidence Act. (Arjun Panditrao vs. Kailash Gorantyal)



– Negotiable Instrument: SC has held that the RBI has the discretion to extend or not to extend the validity of the cheque, since entire the Banking System relies on the same. The validity of a cheque is prescribed by RBI under Section 35-A of the Banking Regulation Act, 1949. (Re Cognizance for extension of limitation)
– Service of Summons: SC has allowed the sevice of notices. Summons, pleadings etc. May be effected by e-mail, FAX, Whatsapp, Telegram, Signal etc. This decision comes after the court noticed the difficulty faced to visit post offices, couriers etc. (Re Cognizance for extension of limitation)



– Environment: SC has upheld an order passed by NGT which directed NHAI to pay compensation to Legal Representative of deceased who died in an accident while travelling through a National Highway. Further, in the same case SC held that NGT has power to issue directions for future guidance, to avoid or prevent injury to the environment. (Director General, NHAI vs. Aam Aadmi Lokmanch)
– Audio-Video recording of witness u/s 161 CrPC: The 3-Judges Bench of SC comprising of Justice RF Nariman, Justice Navin Sinha and Justice BR Gavai, has issued notice to Union Ministry of Home Affairs to introduce "Videography in investigation" as stated by SC in Shafhi Mohd vs. State of HP (2018). (Paramvir Singh Saini vs. Baljit Singh & Others)



– Merging of CBSE & ICSE Board: SC has refused to entertain a petition which suggested merging of ICSE and CBSE, to enable a "One Nation One Education Board" with a common syllabus and curriculum. (Ashwini Kumar Upadhyay vs. Union of India & others)
– Proof of execution of a Will: SC Judgment brings to halt 65 year long family dispute and has held that when both of the attesting witness of a will are dead, then it is sufficient to prove that the attestation of one of the attesting witness is in his handwriting. (V. Kalyanaswamy by LR vs. L.Bakthavatsalam by LR)
– DNA Test: SC has allowed 84-year-old man, who is booked under POCSO Act for raping a minor girl, to undego DNA test to verify that he is not responsible for the pregnancy of the girl. (Jayanta Chatterjee vs. State of West Bengal)
Join us: