[8th July] Daily Legal Current Affairs: Case Laws & News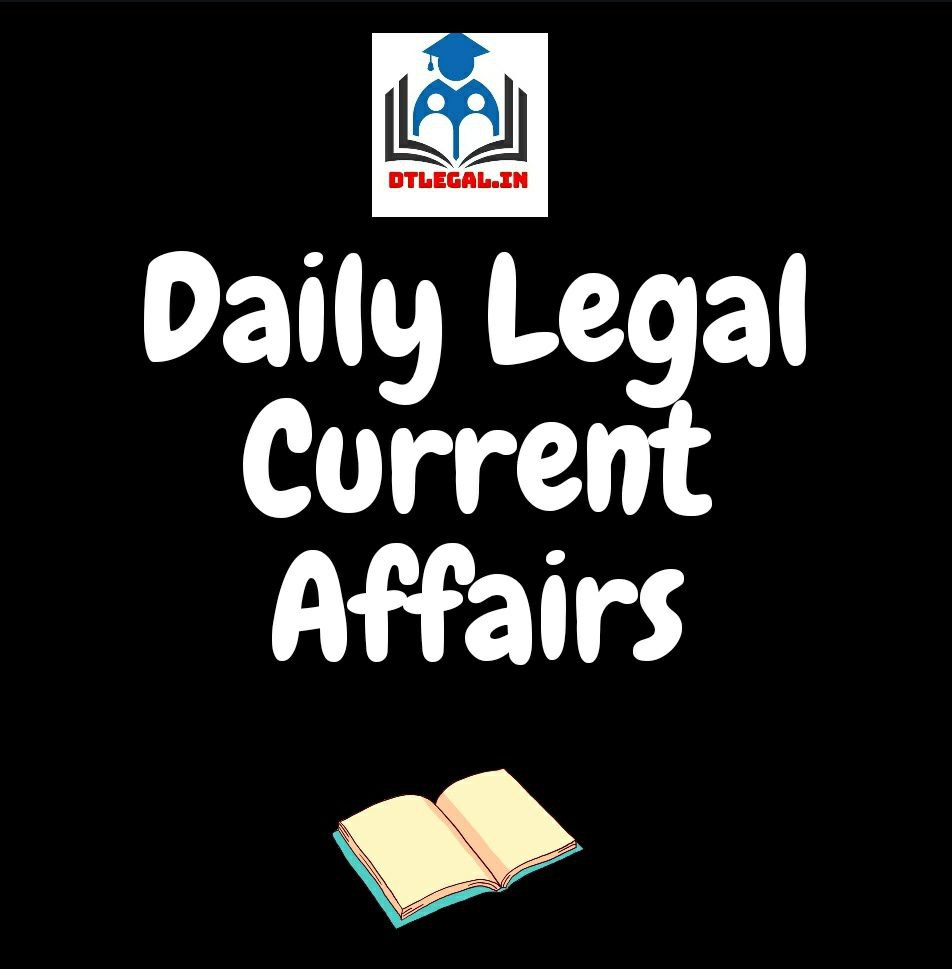 Supreme Court:-



– A Writ Petition has been filed in SC, seeking detailed guidelines to ensure prevention of custodial deaths. The petition also demand acute need for India to enact a strong law to prohibit & prosecute cases of torture & custodial deaths. (People's Charioteer Organizaton vs. Union of India)



– The SC has extended the stay on the multiple FIR filed against Journalist Amish Devgan in connection with his remarks against Sufi Saint Moinnuddin Chishti. (Amish Devgan vs. Union of India)
– The SC has directed Rajasthan Police to complete the investigation into the mysterious death of NLU Jodhpur student, Vikrant Nagaich within two months. (Neetu Kumar Nagaich vs. State of Rajasthan & others)
– SC has issued notice to the Tamil Nadu assembly speaker on the plea to immediately decide the Disqualification Petition regarding 11 MLAs who had voted against Tamil Nadu CM K. Palaniswami in 2017.
– SC has refused to entertain the plea for cancellation of bail of AAP MLA Prakash Jarwal accused in case of Doctor's Suicide. The plea was filed on the account that condition of bail is violated by the AAP MLA.



– A PIL is filed before the SC seeking the cancellation of all postponed exams & projects for students enrolled in National Institute of Open Schooling (NIOS).
– J&k administration has extended the Internet restrictions till 29th July, 2020 stating that it was necessary to continue the restrictions on internet speed as high speed is likely to be used for "Uploading/downloading/circulation of provocative content on the social media". However, earlier SC has directed the govt. to constitute "Special Committee" to review internet restrictions.



– SC while hearing the A.P. Government's challenge to the reinstate of Retd. IAS Officer Nimmagadda Ramesh Kumar as State Election Commissioner, said that they will dispose off the matter within 2-3 weeks.
High Courts & Other Legal Developments:-
– Tripura HC has said that woman who lived like a wife & in the perception she was treated as the wife cannot be deprived of the maintenance. (Bibhuti Ranjan Das vs. Gouri Das)



– Delhi HC while refuseing to set aside the decision of the Delhi University to remove the Officer on Special Duty (Principal), has directed Delhi University to pay the full salary of the principal. (Dr. Rajiv Chopra vs. University of Delhi)
– Telangana while dismissing plea against relacing lockdown norms said that as long as policy decision does not infringe the fundamental rights or a provision of law, courts will not interfere in the working of executive. (Sunitha Krishnan vs State of Telangana)
– Kerala HC while hearing petition of rejection of Educational loan to a student observed that the capacity of the applicant after his education should be deciding factor and not unsatisfactory credit scores of parents should be deciding factor. (Pranav S.R. vs. Branch Manager, SBI)
– Delhi HC has directed Modern School, Vasant Vihar, to keep 1 seat vacant for EWS category for Class I after petitioner alleged denial of seat under EWS Category. [Abdul Kalam (Minor) vs. GNCT of Delhi & another]



– Telangana HC has ordered SBI Bank to extent deadline of One-Time Settlement Scheme by 90days. (M/S Sri Yadadri Lifesciences P. Ltd. vs. SBI)
– Karnataka HC has stayed karnataka govt order, which banned online classes. The Court stated that the order violates Fundamental Rights conferred by Article 21 & 21A.
– 69 Signatory luminaries has expressed the concern in a letter addressed to the present 5-Members Central Committee for Reforms in Law. The letter says that Committee lacks diversity in term of social identity of members aw well as their professional background & experience. Also, that this Committee does not consist of full time members.
– Kerala HC has held that Police can file Final Report against one accused and conduct further investigation against other accused. (Susil Raj vs. State of Kerala)



– Gujarat HC has issued notice to the Central government and minisistry of Information & Broadcasting and Ministry of Consumer affairs, on the plea to direct the Govt. To legislate & impose restriction on sale of products that do not mention the place of manufacturing. (Yatin Sureshbhai Soni vs. Union of India)
– Gujarat HC to remain closed till 10th July after six staff member from HC Registry tested positive for Coronavirus.
– Bombay HC has held that Special POCSO Court can try offences under SC/ST act, if child belongs to SC/ST community. (Suraj Paithankar vs State of Maharastra)
– Kerala HC has said that when the circumstances which person could not have forseen or which are beyond his control & due to which he is unable to marry despite having intention to do so, such cases will not fall within the ambit of rape & will have to be considered differently. (Tijo Varghese vs. State of Kerala)



– Bombay HC while observing situation at Lonar Lake in Buldhana district of Maharastra has said that condition of lake is pathetic due to callous indifference of many of the authorities responsible for conservation & preservation of lake. (Kirti Atul Nipankar & other vs. State of Maharastra & others)
– Advocate Welfare Trust has informed Delhi HC that advocates who are the member of the trust will get reimbursed of medical expenses incurred on the treatment of Coronavirus. Also, Bar Council of Delhi has informed the court that Rs. 5000 each is granted to 16,448 advocates to deal with COVID-19 Pandemic. (Vaibhav Sharma vs. Advocate Welfare Trust)
– Allahabad HC has asked UP Govt. whether any disciplinary action is taken against Principal of Kanpur Medical College for making anti-muslims remark? (Indian Muslims for Progress & Reforms IMPAR vs Union of India & others)



– Kerala HC has dismissed revision petition & said that prima facie material shows that Bishop Franco Mullakkal has committed sexual assault including rape on a nun. (Bishop Franco Mullakkal vs State of Kerala)
– Delhi HC has vacated its order which restricted the publication of comments, articles etc related to 'MeToo' sexual harassment allegation against Mahesh Murthy. (Mahesh Murthy vs. Pooja Chauhan & another)
– Karnataka High Court has issued notice to Franklin Templeton India and other respondents on pleas challenging the winding up of six of its debt schemes. (Amruta Garg vs. Union of India)
– The Kerala HC has observed that even a divorced wife or a widow can maintain a petition under Section 166 of the Motor Vehicle Act, 1988. (Glanis vs. Lazar Manjila)
Join us: