[7th July] Daily "Legal" Current Affairs: Case Laws & Legal News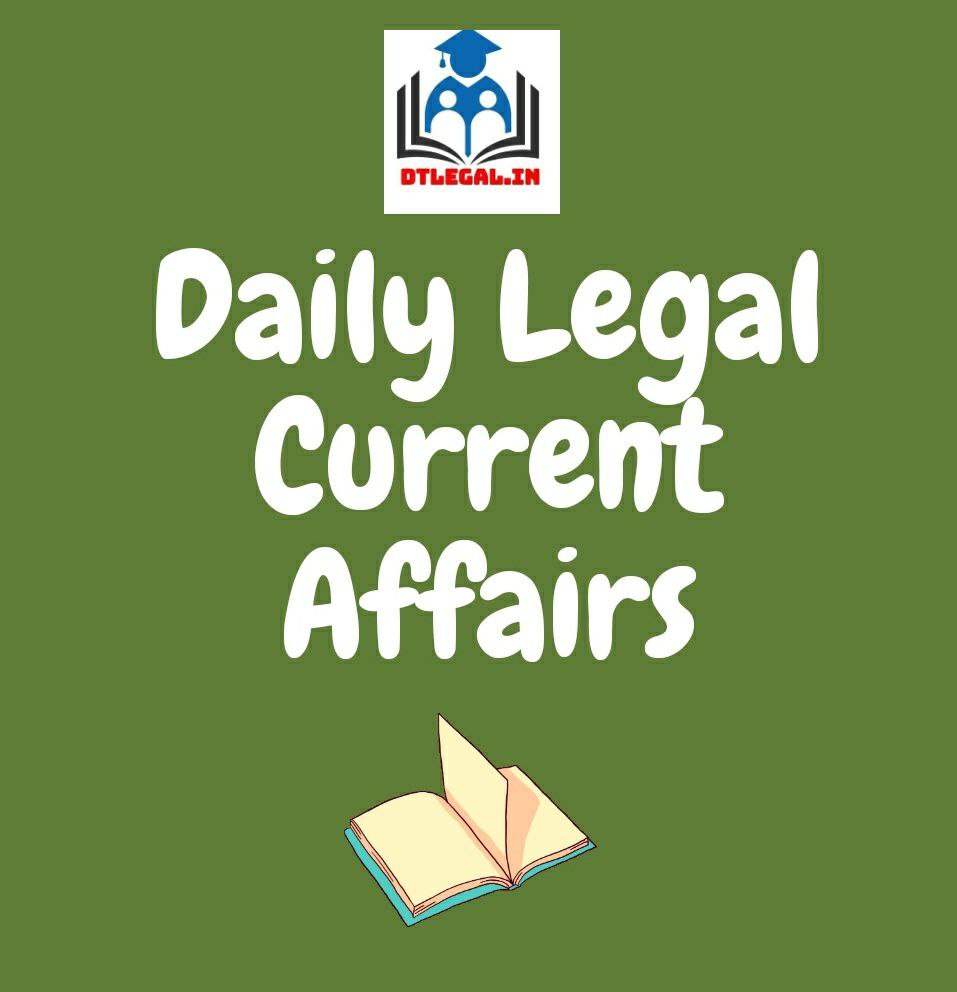 Supreme Court:-


– A Bench of Justices LN Rao, Hemant Gupta & S. Ravindra Bhat of SC took the suo motu cognizance related to the condition of children in protection, juvenile & foster or kinship homes due Coronavirus outbreak. The SC has directed various states of UP, Bihar, Uttarakhand & Tripura to file affidavits by Friday.
– A Bench of SC headed by Justice DY Chandrachud has given one month's time to implement the grant of Permanent Commission & Command Posts for eligible women officers in the army.
– The SC said that Arnab Goswami case was listed urgently because it pertained to liberty & freedom of media. (Reepak Kansal vs Secretary General, Supreme Court)
– SC has granted interim bail to the Promoter & former Managing Director of Unitech Ltd., Sanjay Chandra.


– The SC in Journalist Vinod dua has directed HP Police to submit status report. Also, the Court observed that "If we are satisfied that contention raised by petitioner is correct, we will quash the FIR straight away".
– BJP leader Ashwini Kumar Upadhyay has filed a Plea before the SC seeking direction to Ministry of Broadcasting & Information to broadcast "Covid Yoga Protocols" as well as other customized Yoga Protocols, to spread awareness among the general public. (Ashwini Kumar Upadhyay vs. Union of India)
– A Review Petition has been filed by Akhil Bharatiya Jan Jati Vikas Sangh & others against the order of Constitutional Bench of SC which quashed the 100% Reservation of ST in Schedule area of Andra Pradesh. The Plea states that "Judgment will further suppress Scheduled Tribes".


– Bar Council of India has filed a writ petition in SC seeking direction to Central Government & al the State/UT to provide interest free loan upto Rs. 3 Lakh each to advocates enrolled with their respective bar council. (Bar Council of India vs. Union of India & others)
– SC has allowed Bulgarian National to withdraw his Plea, which alleged that he was being illegally detained in Tamil Nadu. (Ilian Zoravkov Markov vs. State of Tamil Nadu & others)
High Court & Other Legal Developments:-
–Madhya Pradesh High Court has ruled that an order for detention passed under the National Security Act, 1980 without the knowledge that the subject is already in custody is bad in law. (Laxman Singh vs. State of M.P. & Others)


– The Karnataka HC while taking suo motu cognizance of problems faced by corona patients, has issued notice to state government, Bruhat Bengaluru Mahanagara Palike & Central Government. (Registrar General, Karnataka HC vs. State of Karnataka & others)
– The Jharkhand HC has dismissed a plea seeking opening of Baba Baidhyanath Jyotirlinga Temple. However, the HC directed to make arrangement for online Darshan of the Baba Baidhyanath during Shravani mela. (Dr. Nishikant Dubey vs. Union of India)
– Bombay HC has granted 28-day furlough to the Gangster Arun Gawli, who is serving life imprisonment for murder charges.
– Karnataka HC has directed the State government to reconsider its decision of not allowing emergency parole to prisoners undergoing sentence in default of fine not preceded with substantive sentence.


– The Kerala HC has issued notices to various Union Ministries & Govt of Kerala in a writ seeking an effective mechanism to address the grievances of repatriated Indian Migrant Workers.
– After NHRC, Patna HC has taken Suo motu cognizance of difficulties faced by children due to non-availability of of mid-day meals in Bhagalpur (Bihar). [Court on its own motion vs. State of Bihar]
– Delhi HC has allowed the NLU Delhi to correct the error in the notification, which did not mention vertical reservation to OBC/EWS. The NLU Delhi said before the HC that they have misinterpreted the order wherein stay was imposed on 50% domicile reservation.
– Kerala HC has directed state government to take care of well-being of the migrant workers such as life & liberty, wages, health, ventilation, clean environment, want to return back to his home or not etc. (Jana Samparka Samithy vs. State of Kerala)


– P& H HC has rejected the bail of the self-styled Godman, Rampal. (Rampal vs. State of Haryana)
– The Kerala HC has dismissed the discharge plea of Franco Mulakkal in Nun-Rape case.
– The H.P. HC has observed that even if people have grudges against each other, they should not take law in their hand, but should have reported to the appropriate authority or their elders so as to resolve the issue. Tendency to settle the dispute in the street is contrary to the aim of establishment of 'Rule of Law' and to from a civilized society. (Freed & others vs. State of H.P.)
– The Delhi HC while hearing the student of Delhi University, who was passed in 2017 and still does not have degree, has highlighted that there needs to be more streamlined process in place of issuance of degrees & certificate so that inconvenience is not caused to the students. (Dhritiman Roy vs. University of Delhi & others)
– The two benches of Bombay HC has issued notice to Centre, State & Bar Council of Maharastra & Goa seeking the relief as to declaration of services rendered by lawyer as an essential service, so that lawyer can commute by local train. (Imran Mohd. Salar Shaikh vs. State of Maharastra & others)


– The M.P. HC has overruled the a subordinate court's order & granted custody of 3-year old to mother, upon observing the boy's fondness & attachment to the mother. (Smt. Sonu Bhati vs. Suraj Bhati)
– Delhi HC issued notice to the Central government & State/UT government on plea to include persons with disabilities as beneficiaries under Antyodaya Anna Yojana & the Food Security Act.
– J&K HC has issued notice to the state government on plea challenging reservation for Pahari Speaking people in Medical post graduate courses in J&K. The plea stated that language cannot be sole criteria for determing backwardness. (Gokul Sharma & others vs. UT of JK & Others)
– The Bombay HC has directed MGM Hospital to reinstate Dr. Shah as the Head of Department of Radiology. (Dr. Nimish Shah vs. State of Maharastra)


– The P&H HC has disposed the plea after the government assured that all necessary measures are being taken to prevent any kind of anti-national activities being undertaken by the "Sikh for Justice". Earlier, the plea was filed to ban the organization. (Bikram Singh Bajwa vs. Union of India & others)
– Delhi Govt. Has informed Delhi HC that the facility of legal interviews with private counsels through video conferencing is now being extended to all prisoners in Delhi.
Join us: