[6th July] Daily Legal Current Affairs: Case Laws & Legal News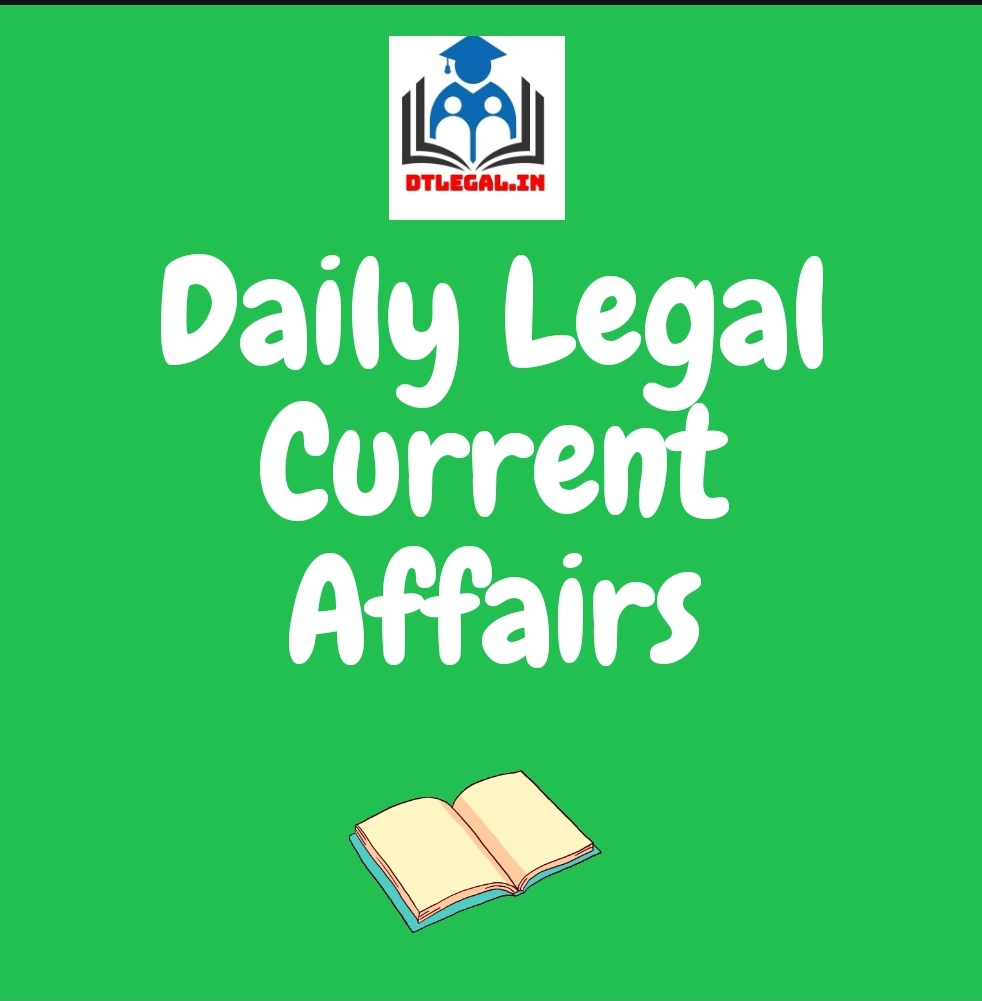 Supreme Court:
– The SC on Monday dismissed a petition alleging bias listing of matters by SC Registry. The SC said that "We see, in general, it has become a widespread practice to blame the Registry for no good reasons. To err is human, as many petitions are filed with defects, & defects are not cured for years together…"
Further, the SC also made important remark that "We expect members of noble fraternity to respect themselves first". (Reepak Kansal vs. Secretary General, SC)
– Supreme Court Advocates-on-Record Association (SCAORA) has written letter to Secretary General of SC, requesting proper functioning of Virtual Courts.


– Supreme Court on Monday in Bhima Koregaon dismissed the order of Delhi HC passed on 27th May, 2020. The SC held that by its order on 8th April, the Gautam Navlakha was at liberty to surrender before Courts at Bombay. Therefore, SC held that the Delhi HC had no jurisdiction to entertain plea at the threshold.
– Advocate Ashok Arora plea was withdrawn in the Supreme Court on account of submission that a suit challenging the resolution suspending him from the post of Secretary of the SC Bar Association was pending before the Delhi HC. (Ashok Arora vs Dushyant Dave)
High Courts & Other Legal Developments:


– A Petition has been filed before the Delhi HC which challenged the constitutionality of the directions given by the Bar Council of India to all Law Universities to conduct the final year law exams. Also, Petition states that direction to hold exams are discriminatory to the poor students and exculde poor which amounts 75% of the total population. (Vishal Tripathi & Another vs. Bar Council of India & Others)
– RGNUL have students filed a Complaint before NHRC against 'Unjust' & 'Disproportionate' fees being charged by University. The RGNUL administration has notified the requisition of full fees for the upcoming semester which is Rs. 1,13,500, on June 27 payable latest by July 10.
– NIA has filed chargesheet against J&K DSP Davinder Singh & five others for having connection in Srinagar-Jammu Highway terror attack.


– The Madhya Pradesh HC has directed state to pay compensation of Rs. 20,000 to a bail applicant, who had been in a jail for a year, without any progress in trial. The Court observed that the State cannot seek sovereign immunity since it is a violation of the Petitioner's Fundamental Right to Speedy Trial under Article 21 of the Constitution.
– The Delhi Government has informed Delhi HC that Foof Corporation of India has been operating its godowns with extended hours including operating the godowns on Sundays & holidays for timely delivery of foodgrains at the FPS & non-PDS centres. The reply was given related to the writ petition filed by an NGO seeking adequate ration for all the person residing in Delhi, with or without a ration card. (Delhi Rozi Roti Abhiyan vs. Union of India)


– Karnataka High Court has issued notice on a Public Interest Litigation filed against closure of OPD of premier mental health institution, the National Institute of Mental Health and Neuro-Sciences (NIMHANS), Bengaluru.
– Delhi Govt. has challenged the admission notification of NLU Delhi for not providing vertical reservation for Other Backward Classes (OBC) & Economically Weaker Section (EWS) before Delhi HC.
– Bombay HC in trademark dispute granted interim relief to Hindustan Unilever Limited (HUF) and restrained Emami from initiating any legal proceeding against HUL for use of trademark "Glow & Handsome" without giving 7-days prior written notice to the plaintiff. (Hindustan Unilever Limited vs. Emami Limited)
– NHRC through a Press Release on 6th July 2020 has sought a detailed response from the Union Human Resource Development Ministry alongwith the government of Bihar of the problems of impoverished children in Bhagalpur who have not been supplied with mid-day meals due to the extended closure of schools.
– Justice Bansi Lal Bhat to remain Chairperson of the National Company Law Appellate Tribunal (NCLAT), for three months.
– The Karnataka HC while replying to the petitions challenging decision of state government to ban online classes, said that the measure was interim measure. The Advocate General appearing for the state said "Reality of the State is that some of students may not have internet access. So we have to adopt an approach where this online education can be accessed by those students who are in rural areas/urban areas and are taught in vernacular languages. These are the challenges of the state."
– The Kerala HC has said that the consent, on the part of a woman as a defence to an allegation of raape, requires voluntary participation, not only after the exercise of intelligence, based on the knowledge, of the significance & moral qualityof the act, but after having freely excercised a choice between resistance & assent. Also, the HC said "Surrender can never be construed as consensual acts of sexual intercourse." (Thankappan P.K vs. State of Kerala)
– The Gujarat HC held that colour blindness is not a ground for disqualification from being appointed to the post of Unarmed Police Constable. (Chocha Milan Lakhaman vs. DGP)
– The Orissa HC pulled up Orissa Government for delaying in making the Real Estate Appellate Tribunal functional in the state. (Bimalendu Pradhan vs. State of Odisha)
– The P&H HC held that widow is not entitled to draw petition under the Haryana Pension to Widows & Destitute Women Scheme Rules, 1988-89 having solemnized Kareva marriage with her brother-inlaw (Devar). [Suman vs. State of Haryana & others]
– The MP HC dismissed petition seeking the presence of lawyer during the search & seizure under Section 67 of the GST act. (Subhash Joshi vs. Director General of GST)
– The Delhi HC has denied the interim bail to the appellant undergoing life sentence. The interim bail application was filed by appellant to grant him bail for 3 months so that he can find a life partner for himself and get married. (Ajay Tiwari vs. State)
– The Delhi HC has directed Jail Superintendent to provide necessary gadgets required for appearing in the online BA exam of appellant. (Ranjit Singh vs. State of Delhi)
– The Calcutta HC has held that Court can intervene on a declaration of Wilful Defaulter only where the limited grounds of patent malafide, arbitrariness, bias or abuse of authority by the Committee established under the law. Court said that fast-track scheme of the legislation would be frustrated if the courts interfere. (Joy Saha vs. Deblina Lahiri)
Join us: