[5th July] Daily Legal Current Affairs: Case Laws & News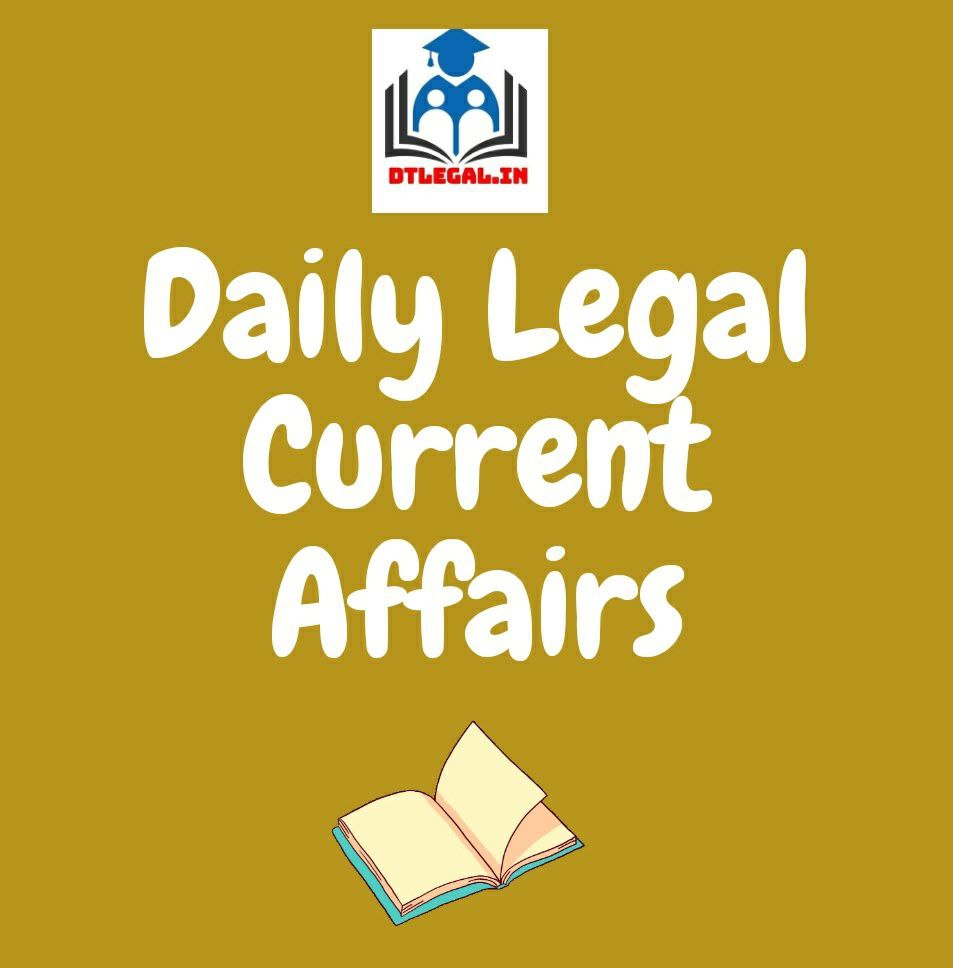 Supreme Court:-


– The Supreme Court of India will be reopening on 6th July (Monday) after the Summer recess (started from 22nd June). The hearing will be continue through virtual hearing.
High Court & Other Legal Developments:-


– The Bombay HC has warned management of Hospitals & quarantine centres of Aurangabad. The HC said that "…Court may visit the sites to see that there is discipline in the staff employed in the aforesaid work and they are discharging their duties seriously & there are no lapses whatsoever & the visit will be paid as surprise visit to the hospitals, to the quarantine institutions & even to the isolation wards & the containment zones." (The Registrar, HC of Bombay vs. Union of India & others)
– The Kerala Government has issued additional regulations titled "Kerala Epidemic Disease Corona Virus Disease (COVID-19) Additional Regulations, 2020". The regulation will be valid till 31st July 2021. The government has invoked the power under Section 4(2) of the Kerala Epidemic Diseases Ordinance. This regulation requires the persons to cover their mouth & nose with the mask/face cover in public places, work place etc. Also, regulation requires to maintain 6-feet social distancing between person to person. Further, the regulations prohibits spitting in public place. Furthermore, maximum number of participants in marriage shall not exceed 50 & for funeral shall not exceed 20.


– The Kerala HC has observed that "Though the Priest of a Church is solemnising a marriage in a church, he cannot be said to be a public servant, discharging public duty or public function." Thus, no public duty or public function is being carried out by a church by solemnization of marriage between two member of diocese. (Santosh kumar S. vs. Church of South India)
– The Delhi HC issued notice to Supreme Court Bar Association in Ashok Arora's Pleas challenging his suspension by Executive Committee Resolution. (Ashok Arora vs. SCBA)


– The Jharkhand HC has said that "There is no provision in law to approach 'Mukhya Mantri Jansanbad Kendra', which is absolutely a non-statutory body nor having being vested with any power under CrPC. Further the Court said 'Mukhya Mantri Kendra' has got no jurisdiction to direct the police official to register an FIR & have no power to monitor the same." The Court said this after application for quashing of an FIR was made before the HC stating that an FIR is registered by police after pressure from the Mukhya Mantri Jansanbad Kendra. (Sanjay Kumar Sharda vs. State of Jharkhand & others)
– The Gauhati HC while granting a compensation of Rs. 30 Lakh to the Parents of child who died due to Electrocution while playing Guitar in School said that "The School is a residential one & for each session there is a specific time period slotted. In such a schedule, the minor students practising guitar are bound to be in haste & as such the school authority is duty bound to provide safe electrical appliances for its use by minor students. The School authority cannot remain satisfied with the belief that as nothing has happened since the past years in the music room, so it requires no supervision by an adult." (Dr. Debajit Das & another vs. Williamson Magor Education Trust)


– The Madras HC has issued notice to the Ministry of Railway on a petition which alleged that no concessional ticket facility is available on IRCTC website. It was alleged by the Petitioner that the concessional fees was available on offline counters only and which can be vulnerable to senior citizens and patients suffering from other diseases.
-The Karnataka HC has established a specially designed remand court having transparent partition. This will help on account of physical production of arrested persons, under trial Prisoners for the purpose of remand or considering the bail.
– Lucknow Bench of Allahabad HC has decided to revert back to Video Conferencing Hearing from 6th July, after increase in cases in Lucknow.


– The Bench of Madras HC quashed the FIR filed under Section 188 of IPC and said "He (Police) is not a competent person to register an FIR for the offences under Section 188 of IPC. As such, the FIR or final report is liable to be quashed for the offences under Section 188 of IPC." Thus, the Madras HC held that no FIR can be registered for any offence falling under Section 172 to 188 IPC. (Shamsul Huda Bakavi vs. State)
– Madras HC through its Circular issued on Saturday has warned its workforce that if at any later point of time, it is found that any of the Officer/Staff member or their family members residing in the same household were tested positive for COVID-19, and still the concerned officer/ Staff member attended office during the quarantine period, departmental action will be initiated against them.
– Session Court of Karkardooma has denied bail to the Delhi riots accused Mohd Faizan Khan. (State vs. Mohd. Faizan Khan)
Join us: