[4th July] Daily Legal Current Affairs: Case Laws & News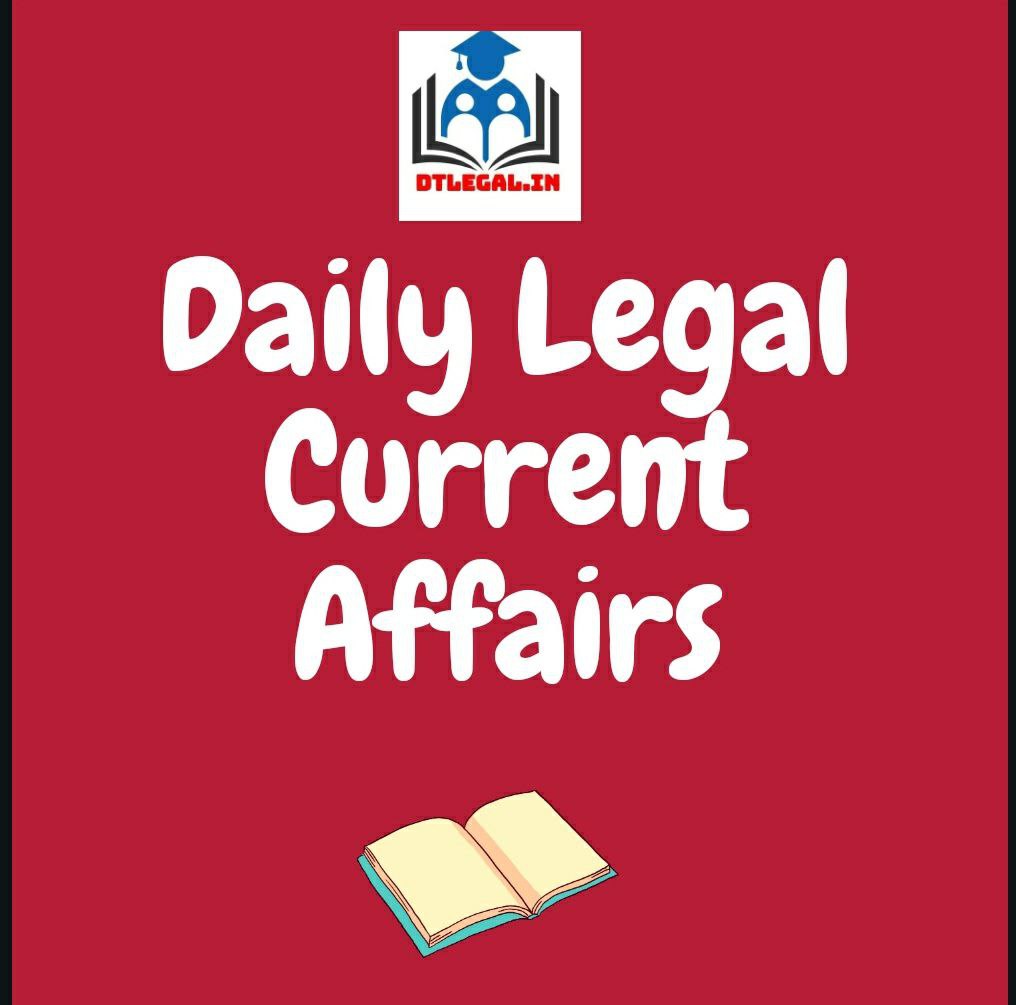 High Court & Other Legal Developments:
– The Delhi HC is informed by the RBI Bank that Google Pay is a Third-Party App Provider with four sponsor banks & thus did not require any mandatory registration under Payment & Settlement System Act, 2007. Earlier, the petitioner claimed that operation of Google Pay are unauthorised under the above act. (Abhijit Mishra vs. RBI & Others)
– Delhi High Court Bar Association has written a letter to the Chief Justice of Delhi HC to waive off chamber license fee & minimum electricity payable for connection at lawyers chamber in the HC.
-The Kerala HC has observed that a person who is accused of an offence under the SC/ST (Prevention of attocities) Act is not entitled to get anticipatory bail, as per Section 18 & 18A of the act, does not mean that he is not entitled to get regular bail, when he is arrested & produced before the court or when he surrenders or appears before the court. (Juli C.J vs. State of Kerala)
– The Single Bench of Delhi HC of Justice Prathiba M Singh has asked the Delhi government that whether the services of the accused, who is a doctor, can be used at any hospital during pandemic. Further, the court has asked the accused doctor to submit his employment details so that his claim that he can be of use to the society if his interim is extended. (Dr. Ankur Garg vs. State)
– Uma Bharti has deposed under Section 313 CrPC (Statements under this section are not on oath & enables the accused to plead for his innocence & rebut prosecution evidence) before the CBI Court in the Babri Masjid Case that "The then Central Government got an FIR lodged against her & others in the demolition case in order to fulfil its political intentions.." Also, She deposed that "I took part in campaign (Referring to demolition) with full devotion & with a feeling of devotion for Lord Ram.."
– A Division Bench of Bombay HC has dismissed PIL alleging the mismanagement of dead bodies of Corona Virus Victims by Municipal Corporation of Greater Mumbai Staff. (Ketan Tirodkar vs. State of Maharastra)
– The Punjab & Haryana HC during the hearing case of NDPS Act against African National said that "Derogatory term is not only unprintable but is unspeakable in the present time, in public or in private dealings between African/foreigner & the police personnel & equally in social circles in our Court's territory as elsewhere". The Court also remarked that "May I ask, what colour is God's skin?". (Amarjit Singh vs. State of Punjab)
– Karnataka HC dismissed the PIL challenging Standard Operating Procedure (SOP) issued by the HC allowing partial functioning of district courts in the state. The HC said that "As we are dealing with an extraordinary situation, it is impossible to find a perfect solution which will be liked by all stakeholders…" Earlier, during the hearing of case the Court said that "It is very easy to sit in AC offices & argue all this. There is always going to be opposition to the procedure adopted, by certain members of the bar. It is easy to throw stones at us. But let us tell you that courts are for litigants and not only for the advocates." (Sri Rajadithya Sadasivan vs HC of Karnataka & others)
– The Jharkhand HC was surprised when it was submitted before it by the Petitioner that there were judicial record forgery was committed by replication of SAR officer's signature. Further, the HC was suprised to find that State has opposed registering of an FIR, when there is an allegation of interpolation in Judicial records & there is allegation of forgery. (Mathias Vijay Toppo vs. State of Jharkhand & others)
– While granting bail to more then 14 bail orders the MP HC said that "The petitioner as a Shiksha Swayamsewak shall render physical & financial assistance to Government Primary School situated nearest to his residence for ensuring hygiene & sanitation and for removing deficiencies of infrastructural amenities in the said School from the skill/ resource of the petitioner". Few days back, MP HC directed accused to install coloured LED TV at a local District Hospital (Manufactured anywhere except China) as pre-condition for bail.
– Delhi HC has allowed couple to live in the married hostel of JNU till the situation is under control. The HC said "Simply because they had gone out on some feild-work, he cannot be denied re-entry. They have no place to go & if the petitioner is unlikely to get an alternate accomodation in a hurry especially in trying pandemic times. Since the allotment subsists they cannot be shut out." (Deepak Kumar vs. JNU & Others)
– While hearing the plea filed by ruling-party in Punjab & DGP Dinkar Gupta against the order of Central Administrative Tribunal which quashed DGP Gupta's appointment as state police chief, the P&H HC has directed UPSC to compile a chart showing comparative merits of eligible officers. (State of Punjab vs. CAT at Chandigarh & others)
[No Important Judgment/ Orders from the SC Today]
Join us: