[3rd July] Daily Legal Current Affairs: Case Laws & News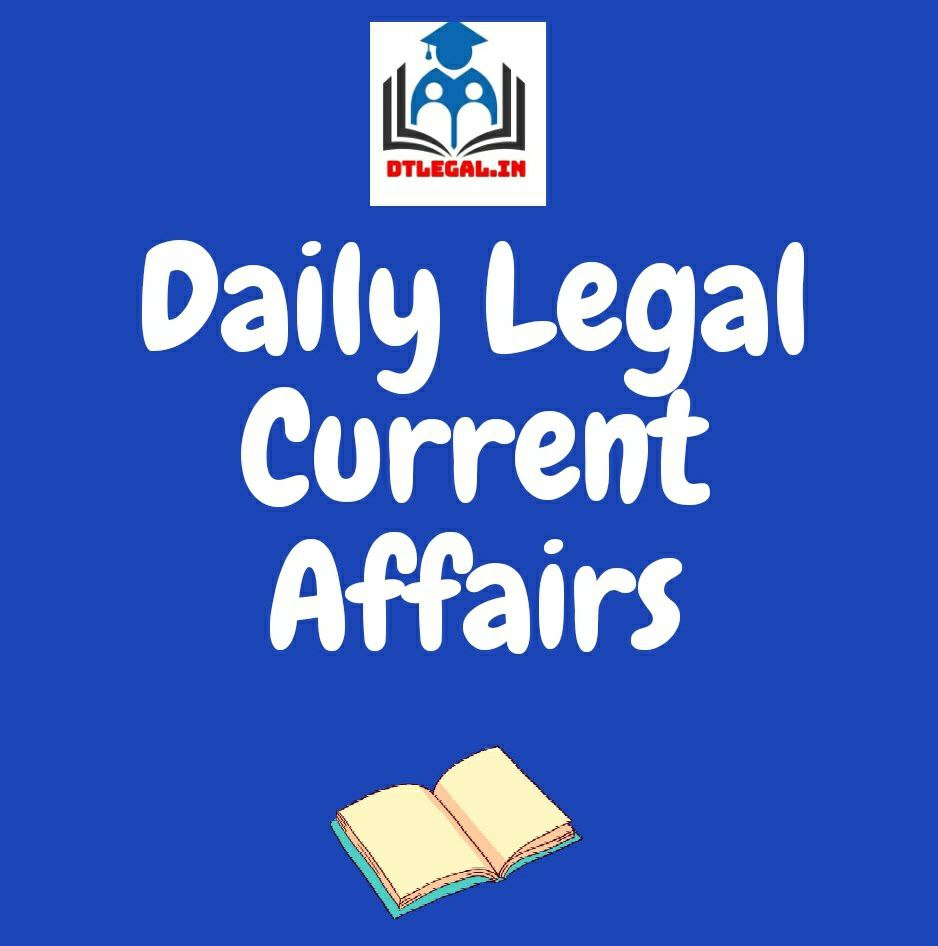 Supreme Court:


– A PIL has been filed before SC to restrain Tamil Nadu CM, E.K.Palaniswamy, from holding the State's Home Ministry till the Completion of investigation & trial in case of Custodial death of P. Jayaraj & J. Bennicks. Plea also seeks the direction to CBCID to probe Palaniswamy's role in safeguarding police. (A.Rajarajan vs. K. Palaniswamy & others)
– After the recent judgment passed in favour of India in case of Enrica Lexie Case, an application has been filed on behalf of Union of India before the SC seeking disposal of three criminal cases against Italian marines, i.e., Republic of Italy & others vs. Union of India & others, Chief Master Sargeant Massim Lat. vs. Union of India.


High Court & Other Legal Developments:
– Patna HC has said that bail appeals from a Juvenile Justice Board could be made only to Courts designated as "Children's Courts" under Juvenile Justice Act, 2015. (X vs. State of Bihar & another)
– The divisional bench of P&H HC has accepted that the role of the technical staff is limited to the resolution of technical difficulties. Also, the Bench said that Single Bench has exceeded the Jurisdiction. Earlier, single bench of HC had directed technical persons to ensure every item on the cause-list is downloaded on the computer. (P&H HC through its registrar vs. Zahur Haider & others)


– Justice Protik Prakash Banerjee (Judge of Calcutta HC) passed away on Friday due to heart failure.
– A Division Bench of Justice Hima Kohli & Justice Subramonium Prasad of Delhi HC refused to entertain the plea challenging the imposition of domicile reservation due to lack of jurisdiction. Earlier, the Delhi HC has stayed the decision of NLU Delhi to introduce 50% reservation for students qualifying exams from National Capital Territory.
– Bar Council of India has constituted a 7 member committee to consider the viability of conducting the CLAT in regional language, in addition to the English.


– The Karnataka HC has removed the controversial comment made by the Justice Krishna S Dixt while granting bail to the accused in a rape case. Remark was as follow "After the perpetration of the act she was tired & fell asleep, is unbecoming of Indian women; that is not the way our women react when they are ravished". (Rakesh vs. State of Karnataka)
– The Delhi HC has allowed the plea of Pinjra Tod member Devangana seeking facilities such as use of headphones to maintain privacy with her lawyer, access to non-academic books etc. (Devangana Kalita vs. Superintendent Central Jail)
– The division bench of Bombay HC has quashed the decision of the Appellate Committee of the Airport Authority of India (AAI). In 2019, Appellate Committee has said to adopt the criterion laid out in the Civil aviation Ministry's draft, 2018 for clearing projects for maximum permissible height. (Kalpatara ltd vs. AAI & others)
– Considering prevailing pandemic condition all interim order passed by the Karnataka HC or subordinate Court are extended till 7th August.


– Plea for mandatory donation of plasma by recovered patients of Covid-19 was disposed by delhi HC. The Court has asked to file an application before appropriate government. (Piyush Gupta vs. Union of India)
– The Karnataka Government has constituted the expert committee to recommend scientific ways of offering online education. The report will be placed before the Karnataka HC.
– Telangana HC has given warning to the Principal Secretary, Municipal Administration & Urban Development & Commissioner of GHMC and that they will have to appear before the Court, if the HC order to increase the number of samples. (R. Sameer Ahmed vs State of Telangana & others)
– Noting that the offence is non-cognizable, the Allahabad HC has quashed non-bailable warrant against Jaya Prada. The NCR was filed against her for making derogatory remarks against her political opponents during 2019. (Jaya Prada Nahata vs. State of UP & another)
– The Maharastra Government has informed the Bombay HC that most of the suggestions to conduct random testing of inmates across the jail which were made by prisoners are accepted by the state. (People's Union for Civil Liberties vs. State of Maharastra & others)


– The Gujarat HC has recently expressed its concern that POCSO Act need to be simultaneously protect young boys from label of 'offender'. (Vikramsinh Champaksinh Parmar vs State of Gujarat)
– Tamil Nadu CM has sanctioned Rs. 3000 per month stipend for next two years to the young Advocates who are practicing in the state.
– Delhi HC has directed central government to publish the draft of Environmental Impact Assessment notification, 2020 in all 22 languages. Earlier, the court has extended deadline till 11th August for filing objections. (Vikrant Tongad vs. Union of India)
– Allahabad High Court has ordered that all the accused persons, whose bail applications had been allowed subsequent to 15th March, 2020 but had not been released due to non-availability of sureties amid the lock down, may be released on execution of personal bonds.
Join us: