Daily Legal Current Affairs: Case Laws & News [1st July]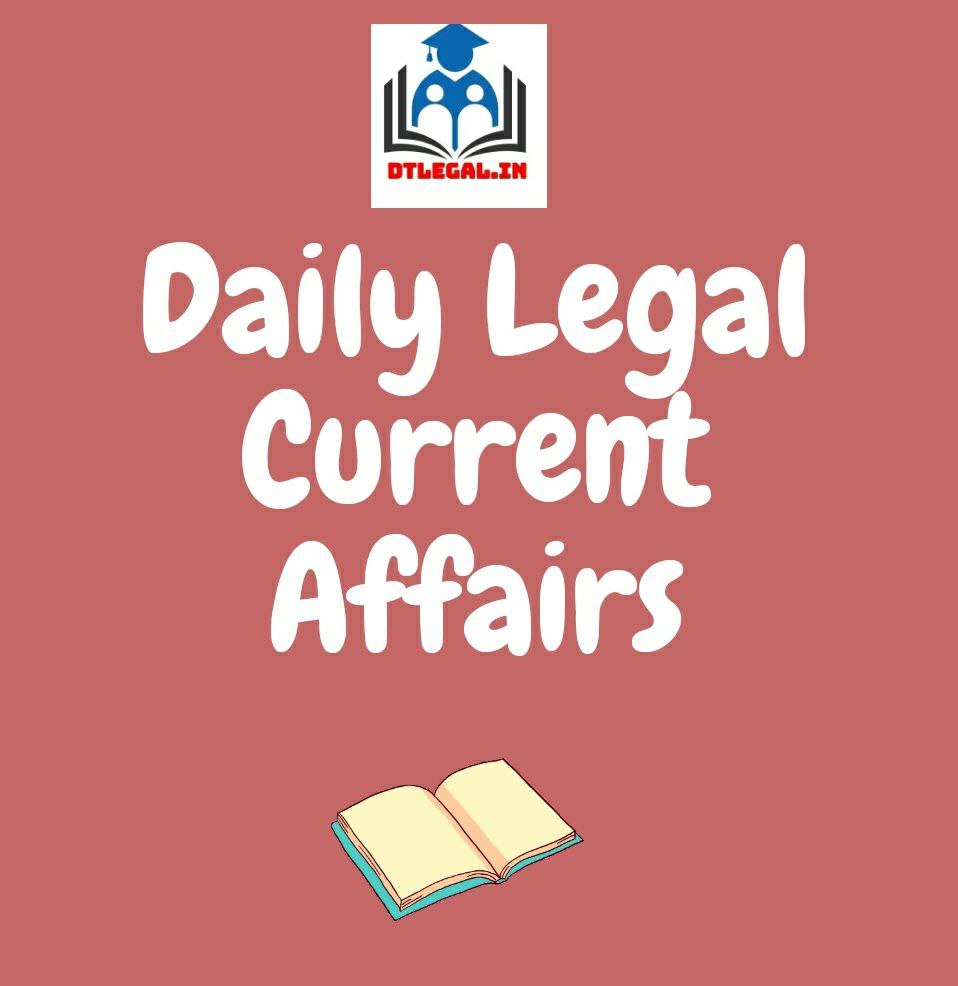 Daily Legal Current Affairs
1st July
Supreme Court:
– A plea has been filed before the Supreme Court seeking the directions for issuance of guidelines & disposal of clemency/mercy writ petitions & execution of death sentence in a time bound manner. Also, plea prays for the declaration of death sentence as unconstitutional as it being violative of Article 14 & 21. (Dr. Subhash Vijayram vs. Union of India)
-SC on Wednesday rejected the interim bail application of Mahendra Yadav, who was co-accused in Anti-Sikh Riots.


-BJP leader Ashwini Kumar Upadhyay has moved the SC seeking prohibition of consumption of intoxicating drinks & drugs, except for medicinal purposes. Also, the Plea asserted that when Article 47 r/w Articles 21, 38, 39, 46, 51A, casts a duty on the State to take steps to improve immune system of citizens. (Ashwini Kumar Upadhyay vs. Union of India & others)
-A plea is filed by Indian Students in Qatar before SC seeking allocation of Test Centres for NEET in foreign countries or to postpone the exams until the pandemic subsists. This plea challenges the judgment of Kerala HC which has denied making such orders to Medical Council of India & National Testing Agency. Plea states that there exist procedural difficulties in getting affidavits attested from the Embassy of India in Qatar & sending it to India for filing of the same due to pandemic. (Abdul Azeez vs Union of India)


-Samridhi Arora (SC Lawyer) appointed as an official member of the working group of Information For All Program (IFAP) of UNESCO.
High Court & Other Legal Developments:
-Senior Advocate Mukul Rohatgi & Abhishek Manu Singhvi have said that they will not represent Tik Tok in the Court.
-NLUD Workers-Students Solidarity has turned down the offer made by the NLU-D Administration for providing alternate employment to its former housekeeping staff.
-The Delhi HC has allowed a plea made by 69 foreign nationals related to Tablighi Jamaat. The plea was made to shift the foreign nationals from the present location to another location provided the expenses of the new accomodation are borne by them. (Mohd. Jamaal & other vs. Union of India)


-A bench of Justice Anu Sivaraman of Kerala HC has stayed the order passed by District Collector (Kannur). The order of the administration was to take over an apartment complex in Kannur to turn it into a first-line treatment facility for Covid-19 patients. The Court also observed that the action has been taken in a hasty manner without any manner of notice being issued to the owners of the apartments. The District administration has issued order by excersing extra-ordinary power under Disaster Management Act, 2005. (Dr. S.V. Mohd. Haris & anothers vs. District collector kannur & others)
-The Kerala HC has extended all interim orders till 3rd August 2020. Also, Karnataka HC has extended period of closure under Section 4 of the Limitation Act, 1963. This extention is for all the District Court & Trial Courts in Karnataka and Benches of Karnataka HC.
-The Ministry of Home Affairs through its notification on Wednesday has notified nine Khalistani Leaders as Terrorist. The Centre has invoked its power under Section 35(1)(a) of the Unlawful Activities (Prevention) Act.


-The Uttarakhand HC on Tuesday issued notice to the Central Government on a PIL filed by a practicing Advocate of HC, Mani kumar against the Patanjali Ayurved for making claim about medicine "Coronil" in absence of permission from the Government.
-The Ministry of Health & Family Welfare has submitted before Bombay HC that the decision as to declare Sanitary Napkins as "Essential Commodities" under the Essential Commodities Act 1955 can be taken only after assessing the demand supply gap and current market scenario. The reply was filed against the PIL which was filed for declaring Sanitary Napkins as essential commodities. (Nikita Narayan Gore & anothers vs. Union of India)
– A Division Bench of Bombay HC on Tuesday ordered the State government to reply to the contentions raised in a PIL filed by a lawyer regarding cases of police brutality in Mumbai. (Firdause Irani vs. State of Maharastra)
– The Advocate Association of Bengaluru informed Karnataka HC on Wednesday that 10,20,000 (out off Rs 13,44,000) has been disbursed as aid to 204 applicants-clerks.


– A division bench of Karnataka HC has asked state government on why it has not included a separate category fo transgender in its notification for the post of Special Reserve Constable Force & Bandsmen. Also, the HC has asked why the State Government has not followed the law laid down by SC in NALSA vs Union of India 2014 SCC 438. (Sangama by its directors vs State of Karnataka)
– Ryan Murder Case: P&H HC denied the bail to the 12th Class student (minor), who was accused of murdering a 8-Year Old. (Master Bholu vs. State of Haryana)
– Kerala HC has held that the persons having physical infirmities like deafness or dumbness which seriously affect their cognitive functions can file a suit through next friend under Order 32 Rule 15 of CPC. (Marry vs. Leelamma)


– The Calcutta HC has uphold the West Bengal Government notification, which banned on use of Chinese 'manjha'. Earlier, NGT has passed order for a complete ban on the use of Chinese/Nylon/Plastic Manjha or thread for Kite flying. (Karunamoyee Samanta vs. State of West Bengal)
– The Delhi HC has uphold the decision of Family Court, which had dismissed the application of dissolution of marriage on the ground of Cruelty & Adultery. The High Court observed that the new Bride's conduct in remaining in room, not showing initiative in household work, disinclination for physical relationship is not cruelty. (Vishal Singh vs. Priya)
– The Delhi HC has held that the evidence collected in breach of the Fundamental right to privacy alone will not make it inadmissible in court of law. (Deepti kapur vs. Kunal Julka)
– The Delhi HC has issues notices to the Ministry of Commerce & Industry as well as to various e-commerce website to publish country of origin along with the product.
– Centre has declared the whole state of Nagaland to be a disturbed area & therefore extended Armed Forces (Special Powers) Act [AFSPA] for next 6 months.
Join us: