How to draft a Legal Notice?(With real-life eg.)
Below mentioned pictures are of a legal notice given by the lawyer hired by a company to the contractor for the breach of contract and without serving a notice of 30 days for vacating the contract as it was promised in the agreement.The notice is beautiful drafted by one of the district lawyer. He has given 15days time to the contractor to revert back with approriate reason and appropriate damages that are incurred by his client, else they will initiate the civil or criminal proceeding against the contractor.Follow the below attached pictures for better understanding. Stick to the each line written.The facts, issues, demands & claim etc must be precise and clearly understandable to the other party as shown below.This is the real notice served by an advocate.
Procedure to File Legal Notice

:
You can draft the notice yourself or avail the services of a lawyer.2. The notice should be addressed to the person against whom you have the grievances.3. Mention the cause that compelled you to send the notice.4. Mention previous communications regarding the cause of notice.5. Offer the addressee a reasonable time say 30 days or 60 days to settle the matter by negotiating and by performing the desired action.Give time in notice for either fulfilment of your demand or giving replySent it through Registered AD post.
Keep a copy of receipt of post office as well as notice.
You can personally send the legal notice without lawyer but it is advised that draft the notice meticulously, in such a way that it is not lengthy and containing all the material contents related to the cause.
Though every Legal-Notice can be legally send through person himself also– but on the basis of experience ii is advisable that technical legal notice be drafted by a layer. We at dtlegal.in are offering Legal Notices Services and you can contact us for getting your legal notices drafted so as to effectively seek resolution without going to court of law .
Another important thing is the DRAFTING OF THE NOTICE– Many times we do not know the legal importance and meaning of the usual words which we use in a casual manner — So when you are writing down the legal-notice than you should be extremely careful about each and every word that you use and be cautious about not admitting any fact which you may later on want to deny in a court of law as once the legal notice is dispatched than you cannot make any changes in that and later on also you cannot make any contradictory statement from what you have already stated in a legal notice.
If you want to get any legal notice drafted by us then email at:[email protected]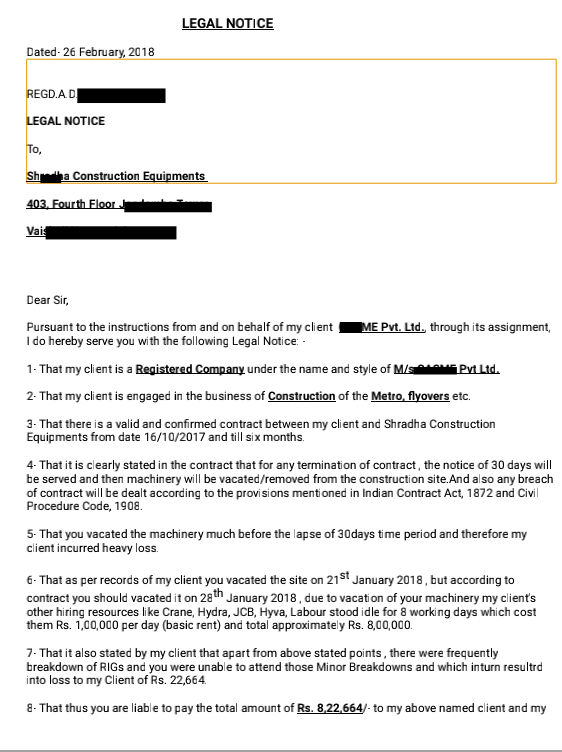 Reference:www.vakilno1.com/legal-advice/file-legal-notice.html/amp